Terri Clark to Perform at Annual H.O.M.E. Charity Benefit Concert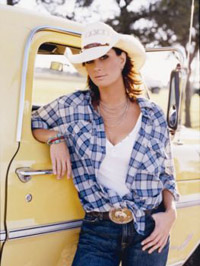 Terri Clark will perform at the 9th annual H.O.M.E. benefit concert, Wednesday, Feb. 21, 2007 at the California Center for the Arts, Escondido . Ticket prices range from $17 to $100 with all proceeds and donations directly benefiting the H.O.M.E. charity.

With more than four million albums sold and nearly a dozen Top 10 hits to her credit, Terri Clark is one of country music's hottest stars. This Alberta , Canada native has toured with such superstars as Brooks & Dunn, Reba McEntire, and George Strait . Clark first hit the charts in 1995 with "Better Things to Do". She's since been and inducted into the prestigious Grand Ole Opry has received multiple CMA and ACM Female Vocalist nominations. She scored a #1 single with "I Just Wanna Be Mad," and had a long string of successes including such hits as "You're Easy on the Eyes," "When Boy Meets Girl," "I Wanna Do It All," "Poor Poor Pitiful Me," and "Girls Lie Too." Last year found her nominated as the ACM Top Female Vocalist and taking home her third CCMA Female Artist of the Year award. Now signed to BNA Records (label home to superstar Kenny Chesney), fans can be listening for a new single from Terri later this year, with an all-new album set to arrive in the first half of 2007. Visit Terri Clark's website for additional artist info.

Clark is scheduled to perform at 7:30 p.m. on Wednesday, Feb. 21, 2007 at the California Center for the Arts, Escondido . Tickets are now on sale through the California Center for the Arts at 1-800-98-TICKETS or by calling Michael Crews Development at 760-749-1919.
Helping Others More Efficiently, Inc | Office: 760.670.7062 | Fax: 760.290.3673 | 108 Chesapeake Ct., San Marcos, CA 92069
© Kelly Crews - All Rights Reserved.