H.O.M.E. Benefit Concert Raises $40,054 for Charity: Cagle Donates Proceeds from Merchandise Sales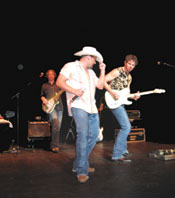 One thousand and thirteen HOME supporters attended the Chris Cagle benefit concert, March 10, 2005 at the California Center for the Arts, Escondido, raising more than $20,000 dollars. Michael Crews Development matched this amount for a grand total of $40,054.

"Folks, I saw the H.O.M.E. video backstage to learn what this charity is about," Chris Cagle said mid-concert. "It really moved me." He continued, in a truly honorable fashion, telling the audience, "I've decided that I'm going to donate half the proceeds from tonight's merchandise sales to the charity."

"It's unprecedented," said Kelly Crews. Of the past seven years of H.O.M.E. benefit concerts, Cagle is the first artist to make a donation, which totalled $489. "We are so excited and appreciative of Mr. Cagle's contribution."

After the concert, Cagle spent an hour backstage meeting and greeting his special fans.

Kelly and Michael Crews thank everyone who participated in HOME's efforts to raise money for hard working families struggling through a crisis.